---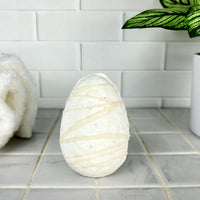 Discover the surprise inside this All Natural Mystery Egg! It's got colloidal oats, buttermilk, and honey for a wholesome bath experience plus a fun toy to enjoy once you've taken the plunge. And no worries about dye either - it's completely dye free. Crack it open and see what's inside!

Directions: Start with a clean tub, run water, and drop your Fizzy Fizzy into the bath. Watch it fizz and release the skin-soothing ingredients. You'll never want to get out of the bath but when you do you will feel relaxed and refreshed.
Ingredients: Baking soda, Citric Acid, Coconut Oil, Epsom Salt, Corn Starch, Oats, Honey, Buttermilk, Cocoa Butter, Alcohol
Phthalate-Free
Never tested on animals!
100% Natural
Skin Safe
Please use caution exiting the tub as the oils may make the bottom of your tub slippery.
Please follow us on Facebook for updates and contests!