---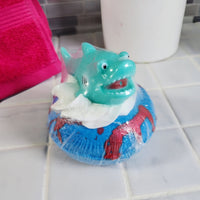 Shark Attack Donut Bath Bomb

(CURRENTLY ON BACKORDER PRODUCTION TIME 1 WEEK)
Shipping for this item will take longer than normal.
Shark Attack Donut Bath Bombs are 5 ounces and scented in a Tropical Beach scent. Each donut is blue, has a drizzle of red color,  topped with bubble "icing", and a toy.
Directions: Start with a clean tub. Remove toy, pull off bubble frosting and hold under water for a bubble bath. Place bath bomb in same bath or save for another use. This bath bomb is guaranteed to provide lots of bath time fun!.
Tip: to get the most of out of your bath bomb you can cut the bubble bath and bath bomb in half! 
Ingredients: Baking soda, Citric Acid, Coconut Oil, Cocoa Butter, Epsom Salt, Sodium Lauryl Sulfacetate, Polysorbate 80, Cocamidopropyl Betaine, Cream of Tarter, Glycerin, Corn Starch, Isopropyl Alcohol, Fragrance, Blue 1, Mica
Phthalate-Free
Never tested on animals!
Naturally based
FDA Certified colorant
Skin Safe Fragrances
Please keep away from pets and children
Please use caution exiting the tub as the oils may make the bottom of your tub slippery.
All of our bath bombs are colored using FDA certified colorant making them safe for your tub and skin.

*While we strive to make each bath bomb look exactly the same, color may differ slightly. They are all made in small batches, and hand pressed personally.
Please follow us on Facebook for updates and contests!